PortSide has brought more visiting vessels to Brooklyn than major parks. The vessels have come from overseas, out of state, up state and Manhattan. The list includes a wide range of vessels: tall ships, tugboats, a buoy tender, rowing gigs, kayaks, and a large historic fleet from the Netherlands. We run a visiting vessel ourselves!
Getting a permit to bring a boat to a pier in NYC is harder and slower a process than it should be - something our advocacy tries to change - so the accomplishments here represent a lot of work!
PortSide also promotes visiting vessels arranged by other groups such as when we promoted the OpSail/Fleet Week ships in Red Hook in 2012 and Fleet Week 2016 at the Brooklyn Cruise Terminal. Our guide to the 2012 OpSail/Fleet Week ships in Red Hook was so good, OpSail handed out ours. Our webpage for those ships attracted over 26,000 hits in May. Our Twitter and Facebook pages provide a steady stream of updates about exhibit vessels coming to NYC.
September 2016, a partner vessel, the former tanker LOUIS C joined us alongside the tanker MARY A. WHALEN. We now have a tiny tanker family! The LOUIS C works in marine construction AND is partnering with PortSide to open to the public for tours and to create maritime training programs for youth and adults. The owner of LOUIS C is a partner in Diamond Marine Services, the only company in the country that trains tug boat operators by giving Towing Endorsement training (TOAR).
Atlantic Basin, Red Hook, summer 2010
The historic tug CORNELL made several appearances alongside the MARY A. WHALEN. The CORNELL towed the 173' Steamer LILAC over from Manhattan for City of Water Day during which the Lilac offered ship tours and and two shipboard photo exhibitions. In August, GAZELA, Philadelphia's flagship and the oldest wooden square-rigger still sailing in the USA, was brought to Atlantic Basin by PortSide. She came with daytime tours and two cabaret performances a night on the main deck.
Atlantic Basin, Red Hook, Winter 2009-Spring 2010
PortSide working with the NYC EDC, secured a winter berth for two impressive schooners: the CLIPPER CITY, a 158-foot topsail schooner, and SHEARWATER, a 82-foot 1920's luxury schooner yacht. As part of the deal, PortSide distributed 550 free tickets to community sails on the CLIPPER CITY in late April and early May.
Atlantic Basin, Red Hook, Dutch Flat Bottom Fleet event 2009
PortSide helped bring a fleet of historic vessels from the Netherlands to Brooklyn to commemorate the year-long Hudson Quadricentennial festivities. Some 400 visitors greeted the historic Dutch Flat Bottomed Fleet in Atlantic Basin on Harbor Day, 2009. Visitors swarmed the pier, the Flat Bottom boats, and boarded a surprise visitor in the form of the 150' barquentine Peacemaker. Co-hosted by NYCEDC.
Atlantic Basin, Red Hook 2008
On a raw December day, we attracted 500 people to the pier for the MARY A. WHALEN's 70th birthday party. Visitors also came by water; the historic tug PEGASUS came from Jersey City after picking up guests in Manhattan. The active-duty tug JANICE ANN REINAUER joined the gang. The MV MANHATTAN swung through Atlantic Basin for a cheer and a wave, and several gigs from the Village Community Boathouse and kayaks rowed over from Manhattan.
When we are a visiting vessel
We have been a visiting vessel ourselves, taking the MARY A. WHALEN to Sunset Park for the first, free, bilingual historic ship tours open to the public (at a salsa concert) in 2010. 400 people streamed aboard, it was the first time on a ship for many.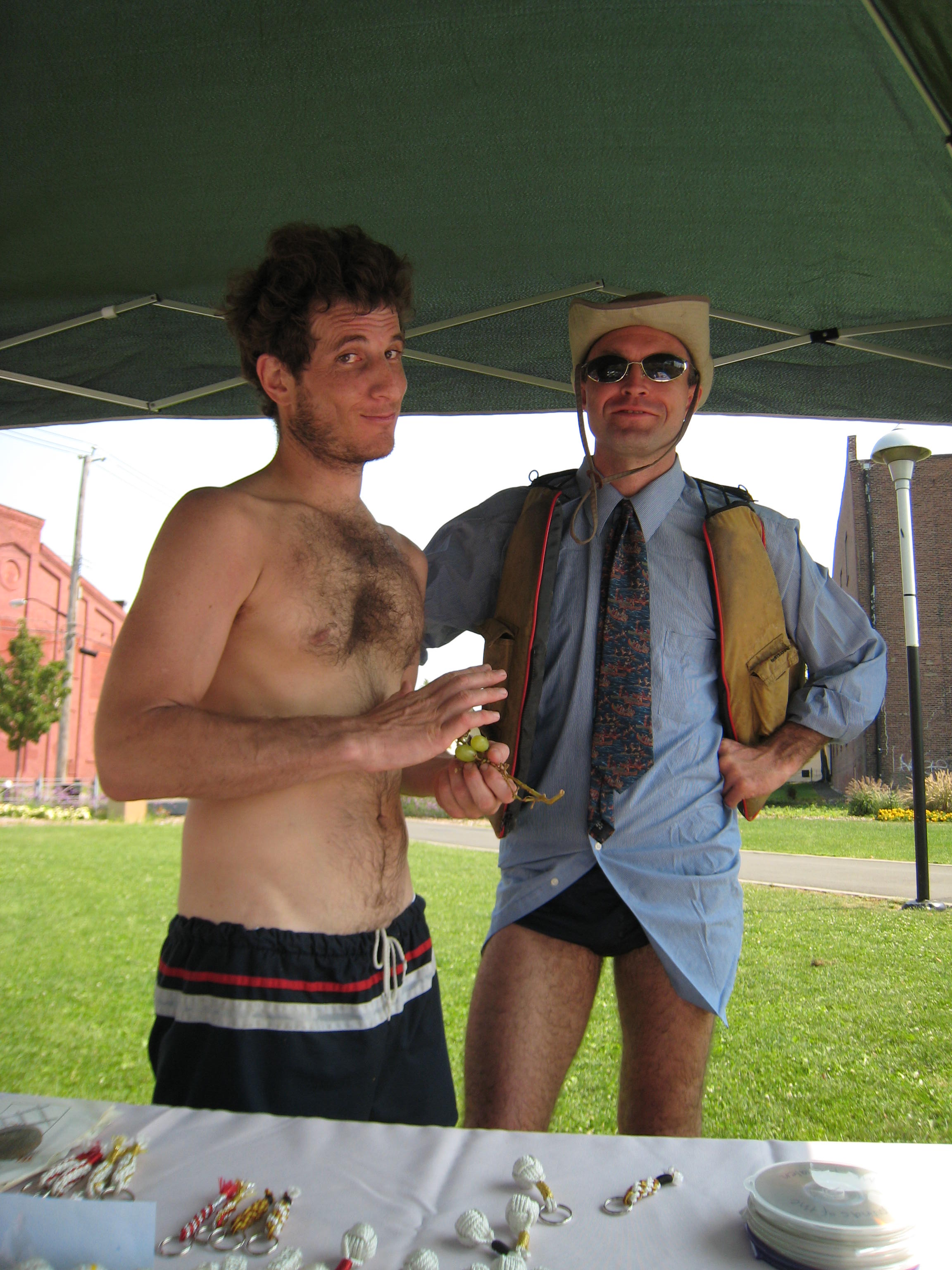 Kayak Valet
PortSide invented Kayak Valet in New York City in 2006. Kayak valet is now a common term and practice in NYC. We designed the event to raise awareness that people want to visit by water and to promote that concept. We watched kayaks in Valentino Park so people could paddle in, leave their boats and visit Red Hook. We secured discounts from local stores and handed out our visitor guides to Red Hook. The Red Hook Boaters now run Kayak Valet every time they offer public kayaking, as do many paddling groups around the city.