We have been so busy that our communications have not kept up with all we did in 2014! Here is a recap of the year to bring you all up to date and bring it all into focus.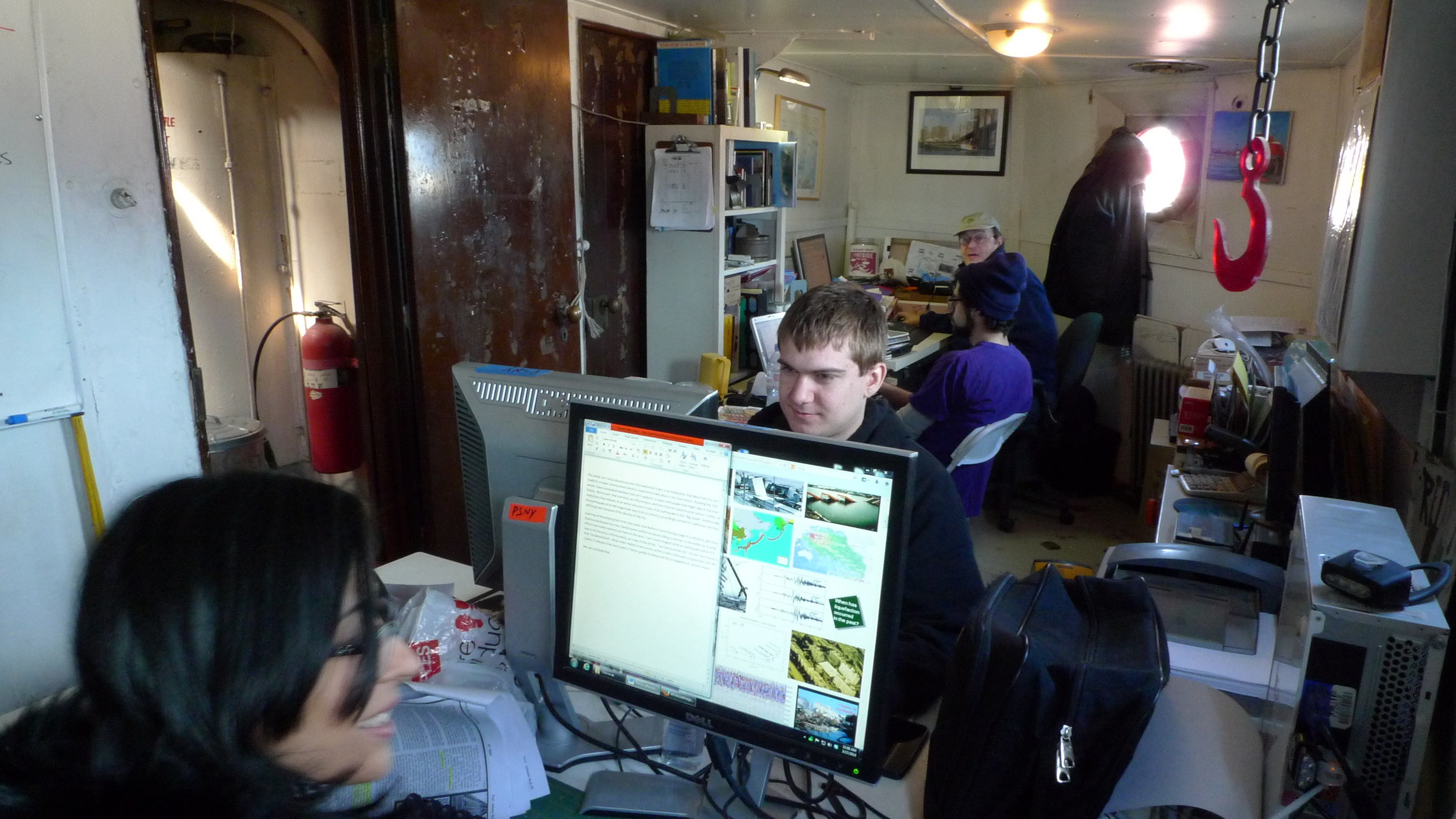 Helping communities plan for the future
Our most sustained endeavor in this department was our eight months of work (begun in 2013) for New York State's NY Rising resiliency planning process. Our Director Carolina Salguero was on the Red Hook NY Rising committee, and PortSide staff and interns supported her work by creating a 17-page document of policy recommendations, and multiple blogposts and webpages with info to help the layman resident or business person make sense of the slew of resiliency plans. Some exammples at these links:
Our Director Carolina Salguero had a strong impact on Red Hook's final NY Rising plan: It was her idea to fund solar-powered emergency lights in Red Hook's NYCHA housing, an idea that looks as if it could be adopted citywide, and much of her writing and photography is in the plan.
PortSide's fall fundraiser was also used to help educate communities, planners, policy makers and the media by having Mary Rowe of Municipal Art Society speak (pithily) about resiliency and by highlighting the Red Hook Sandy Recovery work of three individuals and IKEA.
On BLUEspace issues harborwide, PortSide is increasingly called for advice or to speak to communities about the waterfront (video by Dan Wiley). Our Director Carolina Salguero was asked to represent NYS Senator Velmanette Montgomery at a roundtable about challenges faced by small businesses getting Sandy recovery aid. PortSide provides information about waterfront operations as well as civic and political process. Here are some of the 2014 blogposts that capture that work:
Digital Education
During 2014, PortSide diversified and deepened our rich digital output with content to help people better understand the BLUEspace (the waterfront and waterways).
Our website delivers info about NYC's waterfront, and has extensive content about Sandy recovery and resiliency plans on several pages.
Our blog has waterfront policy, oral history, reports on community waterfront planning meetings and in-depth descriptions of our ship restoration work.
The Facebook page for MARY A. WHALEN is set up as a person to maximize personal interaction with you! You can really feel the waterfront with multiple posts a day of images/updates about work/daily life on and around the MARY and our shipcat Chiclet. We also share content from many friends who are mariners on workboats and historic ships and offer an insider's perspective. The Facebook page for PortSide is an organization page, so it cannot share content from the accounts of individuals and has a more formal, institutional voice.
Our Twitter account shares some of the above and has extensive re-tweeting of content including the following hashtagged themes: #maritime, #ship, #marinelife, #oceans, #waterfront, #urbanplanning, #Sandy, #recovery, #resiliency, #RedHook.
We launched BLUEspace News in 2014, an electronic newsletter to get "news you can use" to the waterfront community (as opposed to our regular newsletters that focus more on our own activities.) Issue one of BLUEspace News led to several offers of support and many emails and calls of appreciation. We plan to grow BLUEspace News in 2015.
Bringing culture to diverse venues & audiences
PortSide is providing editing advice, promotional support and community outreach to Jonathan Atkin's "Hero Project," an exquisite body of work where Jonathan photographs dancers on historic ships as a way to raise awareness of America's maritime heritage. We are designing events to bring youth dance programs in contact with this extraordinary body of work that says as much about dance as it does about ships.
We are furthering plans for a major 2016 performing arts event to exceed the standards, success and buzz of our 2007 endeavor. Can't say more yet!
Saving history
The historic ship that is our ambassador to the BLUEspace and signature asset, the MARY A. WHALEN, became the last of her kind with the scrapping of another coastal oil tanker, the JOHN B. CADDELL. The damage done to the JOHN B. by hurricane Sandy underlined the strength of PortSide's stewardship and good maritime skills; we kept our ship from harm in the storm. Our MARY is the only oil tanker in the world re-purposed for public programs. We thank DonJon Recycling, a business operating on Staten Island for over 50 years, for donating parts of the JOHN B CADDELL to us.
We grew our collection of NYC maritime historic artifacts in other ways. We received donations from Gary Baum, and we curated and culled from the Cowhey collection – building on our getting their 1941 Hyster crane, which we now have, deemed eligible for National Register of Historic Places in 2013.
We renovated the galley of the MARY A. WHALEN, and we inaugurated the re-purposing of the cargo tanks of the ship, by converting tank P2 into a storage space for our collection of artifacts. The eight cargo tanks represent 2,800sq ft of space we plan to adapt for various purposes.
Moving that collection aboard brought volunteers from many other historic ship projects, a tremendous show of support since ship groups are always stretched thin. Thanks to the following for sending personnel and telling their volunteers to help our project: the Waterfront Museum Barge, the South Street Seaport, the LILAC, the SS UNITED STATES.
We grew our WaterStories oral history collection with a day of video interviews with the compelling Don Horton, who was a young merchant mariner during WWII. His visit to Red Hook from North Carolina included an interview with Sunny Balzano, of the famous waterfront bar "Sunny's." On another day, we video interviewed Joe Cowhey, whose firm donated their final inventory to us in 2005 after some 140 years of operating in Red Hook as a firm with a harborwide reputation.
We located more "Mary Whalen alumni," people with historic connections to the ship as crew, people who repaired her or who worked at Ira S. Bushey and Ekloff, two firms which ran the tanker and have since closed.
Educating & training both youth & adults
We became a training site for a union program. They have been working on the MARY A. WHALEN, and their labor will revolutionize this ship in 2015! We can't say more at this point!
We completed the first year as a job site for the CUNY Service Corps, a program where interns are paid to work a full academic year with selected sites. We are pleased that "our CUNY's" stay in touch, as do many of our prior interns. We are proud to be making a difference in the lives of young people.
We gave Air Force vet Erika Renee Stetson a crash course in steel workboat maintenance during the galley renovation, and she said that experience gave her an edge up when she started at SUNY Maritime in January
Middle School 477, the Math & Science Exploratory School, asked us to speak to several classes studying whether Brooklyn was having a renaissance. We created a place-based discussion on the Red hook waterfront.
Growing ourselves
This represents a lot of work that is hard to see but that will have such a big impact on our 2015.
Real estate negotiations – we expect to soon confirm word of a 3-year berth for the MARY A. WHALEN in Atlantic Basin, Red Hook, Brooklyn. Profuse thanks to Councilman Carlos Menchaca for getting involved and speeding the negotiations along. A three-year berth will PortSide, for the first time, stability and the ability to make longer term plans.
During 2014, we spent considerable time reviewing internal policies preparatory to growing the board and other major changes. We talked to consultants, other non-profits, and lawyers, and overhauled our by-laws, instituted new board policies and reworked our brand language to clear up, we hope, the confusion about PortSide's relationship to the historic ship MARY A. WHALEN. No, we are not a preservation or ship project, we are (and what do you think of this new language?) "A living lab for better urban waterways. PortSide will create a viable model that combines the working waterfront, public access, community development and economic opportunities."
We continued plugging away on hurricane Sandy aid paperwork, with great support from a consultant from NYS OEM, and are applying for our approved FEMA Project Worksheet funds to be used for an "Alternate Project" available to non-profits to make them more resilient (as opposed to replacing like with like). We will use the funds to adapt the MARY A. WHALEN to make her more resilient and able to dock at more communities. We recommend that all Sandy-damaged non-profits look into FEMA Alternate Projects.
We ran two successful and distinctive fundraisers, the July "Heavy Metal Sale" during which we culled the choice items from our collection of Cowhey maritime hardware, and the October event "Resiliency is our Hook" at Hometown.
At at Brooklyn Chamber of Commerce non-profit event, we proposed that a Match.com type of service to match Brooklyn non-profit organizations with new board members. This proposal was greeted enthusiastically and Rick Russo of the Chamber said that this is a project the Chamber will commence in 2015!
And to top it all off, we had fun!